A while ago I found this awesome cowl on pinterest - it's sold on Etsy: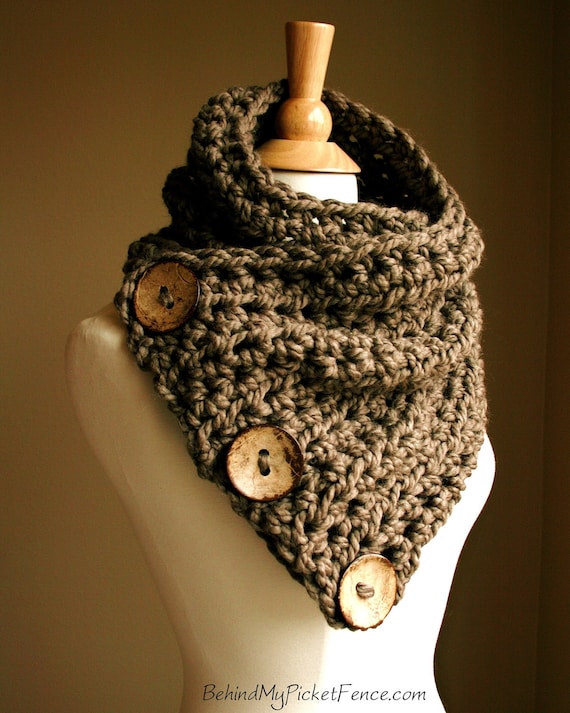 Here's the link to the listing:
http://www.etsy.com/listing/113933476/note-extended-production-time-new-boston
Well, I love it, but it's a little too spendy for my blood so I decided I'd try to create something similar. I'm pretty happy with how mine turned out, so I thought I'd share the tutorial in case anyone else wants to try one (it's super easy...a great beginner project for someone that doesn't normally craft but just stumbled upon pinterest - I'm talking to you here, Kim). If you aren't crafty or don't want to make your own, I highly encourage you to purchase one from Behind My Picket Fence on her Etsy shop....they look so nice!
Ok, so here's my pattern.
Materials:
Two skeins of Wool-Ease yarn - I already had mine but I know they sell it at most craft stores - it's a Lion Brand Yarn
Three large buttons - I found these at JoAnn's for $1.75 each; they're coconut and La Mode brand; 1.5" diameter
Size US P-15/10.00mm crochet hook
Yarn Darner needle to sew the buttons on
I made the cowl by crocheting two strands of yarn together to create an extra chunky weight yarn. You could also just buy extra chunky weight yarn (but again I just used what I already had laying around). So crochet using two strands of yarn (use both skeins at once).
Chain 23. Dc in 3rd ch from hook and in each chain across. Turn.
Row 1:
Ch 3, Dc in each Dc across, turn.
Repeat Row 1 until cowl measures 32" (approximately 28 rows of Dc).
You may want to measure this around your neck to make sure you like the length before you tie off.
Now, add the buttons! You are going to sew them on one end of your cowl, going up the long side of your cowl.
Sew the buttons on approximately 2", 4.5" and 7.5" from the end of the cowl. When you wrap your other end around, the buttons should be centered on the short end of the cowl (see picture).
Now that's seriously it. You just wrap it around your neck and loop the buttons through. The Dc creates holes that are the perfect size button hole.
Enjoy!